Paradise Pointe Amenities
Paradise Pointe is an oceanfront, Cherry Grove section of North Myrtle Beach venue for family fun because of all its furnishings, conveniences and luxuries. Take a peek inside one of the three- or four-bedroom oceanfront vacation rentals and see for yourself what is offered in your vacation condo while on-site amenities make vacation living super easy, too. Peace of mind and comfort are bundled into one neat package when you bring the family to vacation at Paradise Pointe.
Parking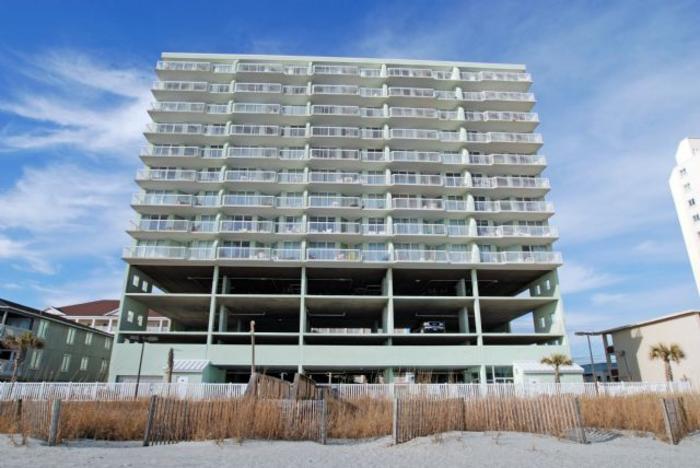 Parking is a snap at Paradise Pointe, thanks to the parking garage that takes up the first four levels of the condo resort. Well lit and spacious, the Paradise Pointe parking garage offers security and convenience for your next beach vacation. Elevators and stairs are located on each end of the parking garage so navigating to your oceanfront condominium is easy.
Sleeping Accommodations
The oceanfront condominium rentals at Paradise Pointe are either three or four bedrooms, which sleep between six and 14 people. A sleeper sofa in the living room often accompanies the private bedrooms allowing for a couple more of your family members and friends to join you on your North Myrtle Beach vacation. Furthermore, the master suites at Paradise Pointe open up to the oceanfront balcony, so you can even sleep with the glass doors open where you can hear the crashing waves and seagulls and feel the ocean breezes as you drift to sleep.
Television
Just because you're on vacation, playing on the white, sandy beaches and hitting the Myrtle Beach golf courses for 18 holes every day does not mean that come evening, you aren't ready to watch your favorite television shows. Generally, several televisions and DVD players are furnished in each Sunrise Pointe vacation condominium. Rent a movie, bring your favorites or settle in for the regular prime time schedule, just like home.
Kitchen
A fully-furnished kitchen in your oceanfront condominium gives your family the choice of making meals, packing picnics and eating when they are hungry. While Myrtle Beach has hundreds of delicious restaurants in close proximity to Paradise Pointe, having the option, dishes and utensils to make a sandwich, prepare hot appetizers or broil your fresh catch of the day gives your oceanfront vacation even more versatility.
Laundry
Each vacation condominium at Paradise Pointe is furnished with a washing machine and clothes dryer. What ease to do laundry during your vacation! You don't have to count quarters, pack a basket or wait for the dryer cycle to complete. Toss in a load at your oceanfront condo and go back to the swimming pool. It's just that easy.
Oceanfront Location
Paradise Pointe is easy to find from Highway 17 in North Myrtle Beach. It's near the end of the quiet road where the inlet meets the sea. Its oceanfront address brings to mind shag dancing, beach music and wooden dance floors. Explore all of Ocean Boulevard and the beautiful beachfront in North Myrtle Beach and discover a realm of vacation opportunities on the oceanfront.
Swimming Pool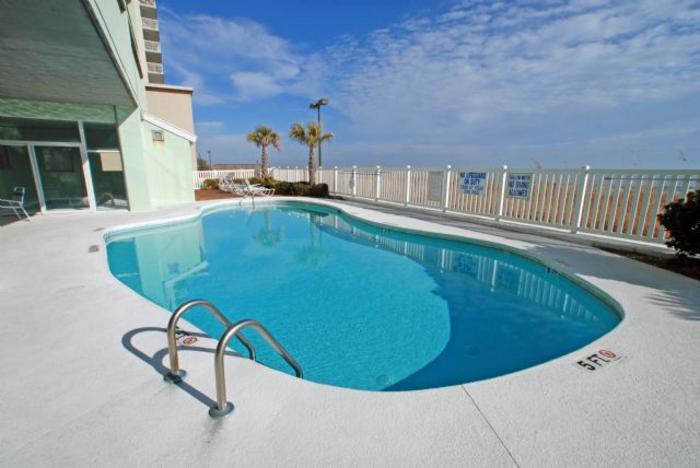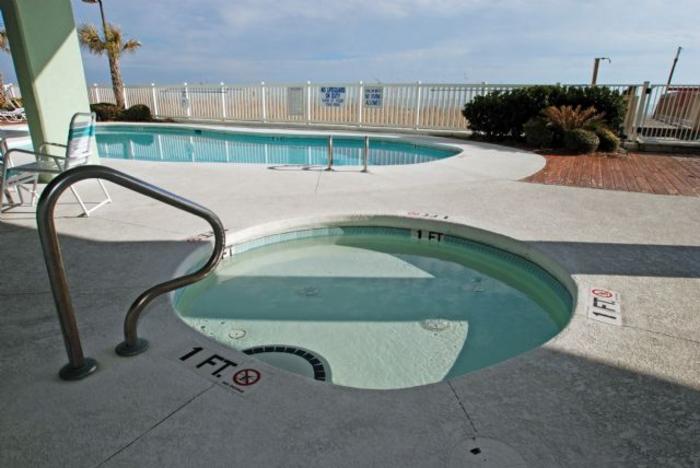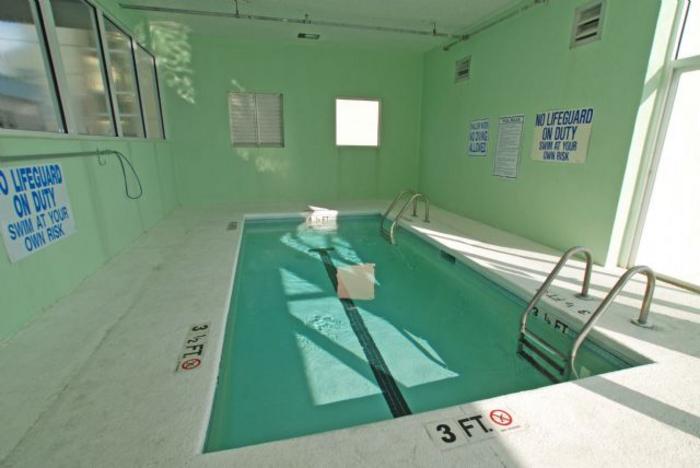 Running the entire width of Paradise Pointe oceanfront resort in North Myrtle Beach is the oceanfront pool deck. Boasting both an indoor and an outdoor swimming pool, Paradise Pointe gives guests numerous ways to get some rest and relaxation on the pool deck. A lounge chair is recreation simplified. With headphones and your favorite music or a pile of the latest magazines and a cold drink, getting some sun poolside is a pleasant way to kick back in North Myrtle Beach. Paradise Pointe has a lazy river that is too inviting to be ignored by even the adults in your family. Those inner tubes float lazily around the lazy river and with sea breezes at your back and the sun shining overhead, why wouldn't you want to fall into a round raft and be a kid again? Take advantage of the oceanfront hot tub when your muscles need rejuvenated. A hot tub is the perfect remedy for sore muscles after playing Myrtle Beach golf or shopping the outlet malls. And when you need a little break from the sunshine or a summer rain shower has moved in, slip into the indoor swimming pool where glass walls still allow oceanfront and pool deck views.
Beach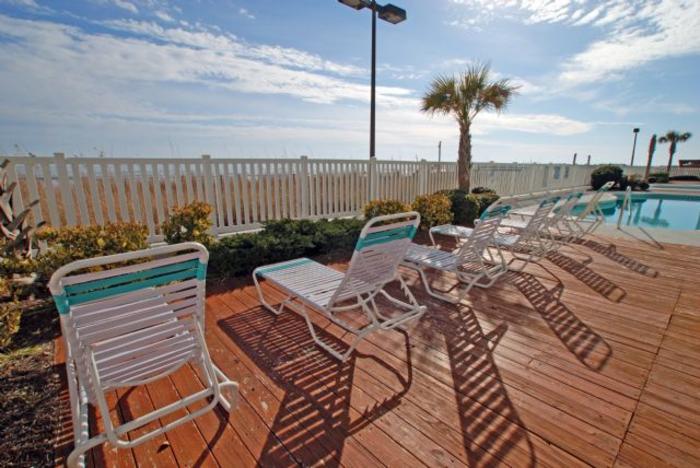 Outdoor living gets even better when the Atlantic Ocean is the backyard treasure you find. Memories that last a lifetime are made on the beaches of North Myrtle Beach. From watching your youngest child experience the Atlantic Ocean for the first time to learning more about one another through hours of beachside conversation, the white sandy beaches are the backdrop for memories. Be sure to have the camera on hand when you play on the beach because you never know when dolphins may swim by or your kids finally catch a wave on their body boards. Your time on the beach can be for solitude or togetherness; serenity or excitement. A North Myrtle Beach oceanfront vacation is what you make it. We provide the oceanfront scenery!
Property Location
Location: Oceanfront
Area: Cherry Grove
5310 North Ocean Blvd
888-617-3451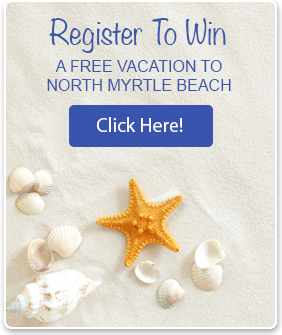 Disclaimer
Elliott Beach Rentals is not affiliated with onsite management or the HOA of this complex.