Things To Do
The Beaches
Ocean Bay Club is part of the famous Ocean Drive section of North Myrtle Beach. Beach music flows through the air, the sound of oceanfront activity is music to your ears and the rhythmic roll of crashing waves easily lulls guests to sleep. The family-friendly beaches right outside of Ocean Bay Club are perfect for playing and relaxing and socializing. Or if you'd rather just sit quietly and sink your bare toes into the sugary white sand, be our guest for indulgences like that, too.

Golf
If you prefer the beauty and solitude of a fairway, then you will love what Myrtle Beach offers. Championship golf courses are everywhere in the North Myrtle Beach area. There are more than 100 from which you can choose nine or 18 holes. So be sure to pack your golf clubs.
Myrtle Beach golf courses offer varied views and all are picturesque. Play a round while you keep an eye on the sailboats, trawlers and yachts that travel the Intracoastal Waterway. Or putt while enjoying oceanfront views of the Atlantic Ocean. Myrtle Beach golf courses are nestled in the dense pine forests and they flank the Lowcountry salt marsh. At each North Myrtle Beach area golf course you will have panoramic vistas, natural hazards and plenty of freshwater that make your golf experiences equally challenging and beautiful.
Get in some golf practice at one of the many nearby driving ranges. Rent a bucket of balls and perfect your swing when you are on vacation in North Myrtle Beach. Treat yourself to a lesson given by a golf professional. Their tips and advice are sure to improve your golf game.
Book your golf package with Myrtle Beach Golf Authority.
Entertainment
For some indoor fun, get your family tickets to one of the award-winning live theatre destinations. Some are even dinner theatres at which you can feast on delicious fare while being fully entertained!
The Alabama Theatre in North Myrtle Beach features big-name entertainment. First-class stars light up the stage throughout the year playing classic rock and roll, foot-stomping country, lively gospel and big-band swing. Alabama Theatre also has popular resident shows that are brimming with singing and dancing. You will love all the energy that comes from the live theatre productions at Alabama Theatre.
Dolly Parton's Dixie Stampede is a dinner theatre situated just minutes away from Bay Watch Resort & Conference Center. Pre-show entertainment in the Carriage Room is electrifying while the dinner served to guests as they sit around the expansive arena is delicious. Part of the fun of this four-course feast is eating it with just your hands. Horses, buffalo, ostriches, pigs and more have graced the stage of Dolly Parton's Dixie Stampede. The show is brimming with country music and gospel surrounding competitive games where your family either cheers for the North or the South.
The Carolina Opry features renowned entertainment. The Carolina Opry has won many awards and been featured in some of your favorite national magazines. Comedy is sprinkled throughout this live theatre production that is alive with music, singing and dancing.

Water Sports
Water sports and North Myrtle Beach go hand in hand because the area is virtually surrounded by water. Numerous businesses up and down the beach offer tandem parasail rides, banana boat rides and Sea Doo rentals in the Atlantic Ocean. Others boast offshore SCUBA diving, dolphin watch cruises and sailboat rides. What a way to enjoy the Atlantic Ocean.
A salt marsh inlet near North Myrtle Beach teems with fish, such as flounder. Rent your own fishing boat for a day of quiet fun in the North Myrtle Beach sun. Hire a fishing guide to show you the best locations for finding the fish of your dreams. Or wade into the shallow waters with a fishing pole in search of your dinner. Whichever way you opt to go fishing, know that seafood does not get any fresher than when you catch it for dinner yourself.
Property Location
Location: Oceanfront
Area: Cherry Grove
5310 North Ocean Blvd
888-617-3451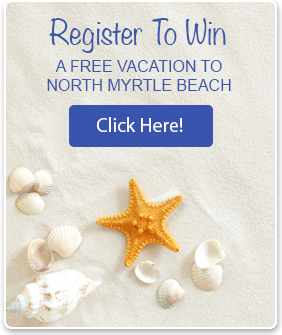 Disclaimer
Elliott Beach Rentals is not affiliated with onsite management or the HOA of this complex.